Office package support company management
Thanks to the deep integration of Office 365 solutions (Microsoft Office package) and Microsoft Dynamics 365 management systems, you can even better use the functionalities of the Office suite in company management. Integrating these two solutions means adding value, functionality and increasing possibilities.
Microsoft Excel and Dynamics 365
Updating records can be time and resource consuming. However, Microsoft's integrated solutions allow you to update them in Excel (online) directly from the Dynamics 365 system.
What is more, all data in Excel can be analyzed without leaving Dynamics 365 system. The system allows you to use Excel online and perform all necessary data analyzes there. Upon completion of the work, the updated information is saved in Microsoft Dynamics 365.
Excel allows using complex tools for data analysis. If it is connected to Microsoft Dynamics 365, the reports are automatically updated. As a result, all changes made to files are immediately visible and information is available in real time.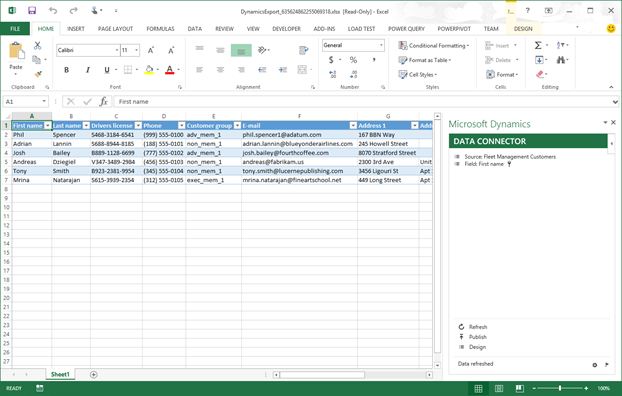 Real time reports
Thanks to the integration with Business Central, you can prepare reports in Excel in real time. Reports can be very detailed and can be dedicated to various entities. Reports can be imported from Business Central to Excel and backwards. This allows you to easily create and modify reports, without the need for coding or programming skills.
Excel also allows you to adjust budgets and plans directly in your browser. The solution allows you to integrate operational and financial planning using driver-based models, offering greater accuracy. The solution is easy to scale and adapt to new planning forms, users and units. You can get started quickly with ready-made templates and starter kits.
The advantage of editing in Excel is that you can make changes to records in Excel and then publish the changes back to Business Central.
Connecting Business Central with Excel allows you to download data from the ERP system, introduce changes and publish them. Thanks to this, users can easily and quickly edit financial data or create working charts and analyzes in Excel. This function also supports list filtering. It all comes down to the convenience of work and increasing its efficiency.
Microsoft Word and Dynamics 365
Word templates in Microsoft Dynamics 365 allow you to take advantage of many of the advanced features offered by Microsoft Word. Word allows you to generate professional documents. In integrated solutions, you can design your document layout just like in Microsoft Office Word. Templates save you time because you don't have to create new documents every time you work with similar records.
Customer data can also be merged with Word templates to create summaries.
Like in Excel, Business Central's integration with Word enables users to take advantage of data formatting features not available in Business Central. A variety of data – invoices, orders, etc. – can be exported to Word and users can create formatted reports. You can create a report from scratch and customize it to your liking, or use one of the templates included with Word, such as a customer summary.
In Dynamics 365 Business Central, you can make basic adjustments to printed documents, such as sales invoices, purchase orders, and posted purchase invoices. The system allows you to customize Dynamics 365 Business Central invoice formats using Microsoft Word.
Microsoft Outlook and Dynamics 365
The integration of Office 365 with Dynamics 365 platform allows you to easily track your e-mail messages. It also allows you to check information about sales activities as well as track deadlines and organize meetings from the Outlook calendar. From Outlook, you can also generate new records directly into the Dynamics system. What's more, the combination of solutions allows you to automatically schedule tasks in response to e-mails and add information to the customer record.
You can create sales quotations, orders, or invoices from within Outlook. This solution significantly facilitates and improves the work with the customer. Integration with Outlook also helps to track customer payments.
You can create sales quotations, orders, or invoices from Outlook level. This solution significantly facilitates and improves the work with the customer. Integration with Outlook also helps to track customer payments.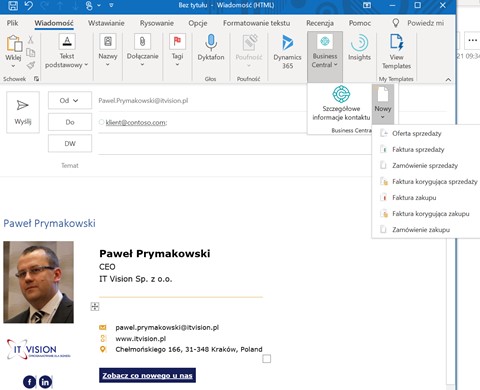 Microsoft Share Point and Dynamics 365
SharePoint is an online collaboration platform that integrates with Microsoft Office. It is mainly used to manage and store documents created to save space and reduce the amount of stored data. When Share Point is integrated with Dynamics 365, customer data can be easily restored and documents containing data can be automatically attached to customer records. This integration enables collaboration and document sharing with users inside and outside the company.
Microsoft One Note and Dynamics 365
Microsoft's OneNote application works like a digital notepad that you can use to take notes anywhere. OneNote's integration with Dynamics 365 allows you to create and edit notes in the activity board record. Both in the web application and in mobile application, for selected entities. One Note lets you easily capture, organize, and store notes (including images) on any device and connect them to Dynamics 365. (This integration is only available for Dynamics 365 Online deployments and requires SharePoint integration.)
Microsoft Teams and Dynamics 365
Dynamics 365 and Microsoft Teams integration allows users to easily work with common customer data and share files directly. It also facilitates the presentation of data or the organization of meetings and webinars. It helps to improve communication in the team and improves its efficiency.
Integration of Office 365 – Summary
The integration of the Office 365 package with the Microsoft Dynamics 365 system does not only improve everyday work. It is also an extension of the functionality of the Dynamics system. Office 365 extends both Business Central, Dynamics 365 Sales and all other solutions from the Dynamics 365 family.
Any questions? Contact us!