Data import from truck and rail weights
IT Vision has prepared special solution connected with weight data import for Microsoft solutions users (Dynamics NAV, Business Central). Thanks to the solutions we have developed, data from the GSW system are imported directly into the management system. Thanks to this, you do not have to worry about manually entering data into the system.
The main applications of weight integration are:
Granular materials weighing
Operation of waste landfills
Weighing of railway cisterns
Axial weighing
Weighing with RFID readers
Weighing systems
What importing weights to the system looks like?
The system (Business Central/NAV/Navision)Data import from truck and rail weights in set time periods. You define the way in which the data is to be collected. Cyclicality is also defined (hour and frequency – daily or only working days). Based on these parameters, the system imports data to the GSW report in the ERP system. It is also possible to manually import data from the level of a weight report.
Example of imported data: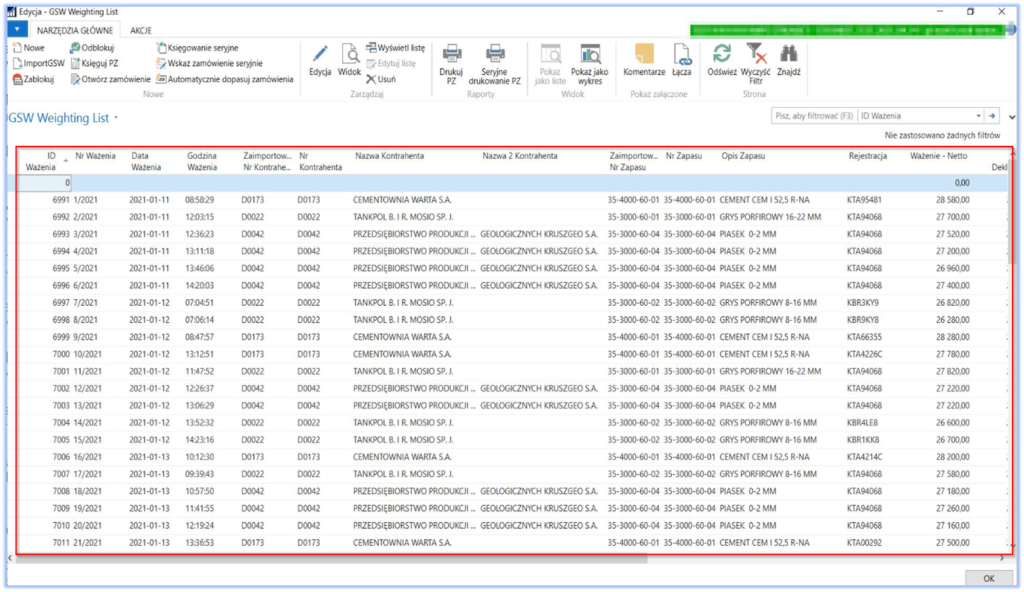 Based on the imported data, the user has the option to automatically assign GSW lines to purchase orders that have not yet been fulfilled and to open and check a given order.

The weighting report allows you to post a Direct Debit document or a serial posting of Direct Debit documents (after selecting the line data) without having to go to the purchase order. From this level, it is also possible to print a single or serial goods receipt document.

What is more, we have at our disposal such actions as: Block, Unblock, Status Posted. The system does not allow you to change the record in the status Blocked and Posted, thanks to which we control the correctness of the data.
The integration of the weighing system with Microsoft 365 Business Central (as well as NAV and Navision) is one of the many dedicated solutions prepared by IT Vision.
If your company has non-standard needs, we can extend the functionality of the system with our proprietary solutions or create a module dedicated to the needs of your organization.
Any question? Contact us!